Palermo, december 3, 2020 – LEXIA Avvocati is the law firm of the year "Sud e Isole". The law firm was awarded yesterday at the TopLegal Awards. The ceremony this year took place in streaming with over eight hundred participants.  The award was received by the lawyers Alessandro Dagnino, managing partner of the firm and Andrea Vincenti, partner.
LEXIA Avvocati prevailed over numerous competitors for the category. As every year, TopLegal, a famous magazine in the sector, attributes the prestigious awards to excellence in the Italian legal sector, making use of an independent commission made up of senior figures from the legal, tax and financial departments of large Italian and foreign companies.
The motivation for the award underlines the ability that LEXIA Avvocati had in forming a team specialized in tax and financial law in the city of Palermo, a team capable of attracting international clients. The studio was also awarded for technological innovation. LEXIA Avvocati receives the "Sud e Isole" award for the second consecutive year.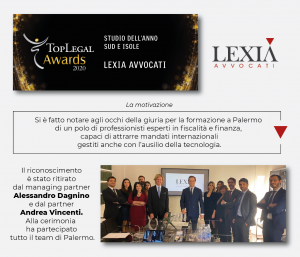 PRESS REVIEW
The news published by Live Sicilia
The news published by Palermo Today
The news published by L'Opinione di Sicilia