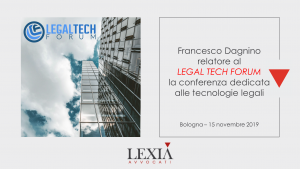 The 2019 edition of the Legal Tech Forum, the first  conference dedicated to legal technologies in Italy, that brings together the main players on the national scene, will be held in Bologna on the 15th of November.
Francesco Dagnino, partner of LEXIA Avvocati, will be among the speakers during the morning session (11:45 – 13:45 am) dedicated to Blockchain & Intellectual Property.
For all details of the program, contributions, and for registration, click here.