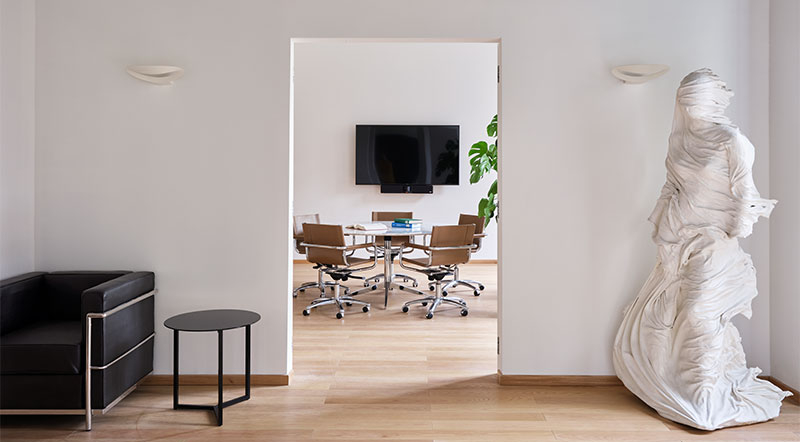 We have a deep expertise on Data, Intellectual Property and Technology, delivering our clients with advice that aligns with our client's strategy and the current market.
We offer market leading legal and compliance support by working together with legal and compliance officers to assist them with technology transactions and throughout the GDPR process. We help our clients develop, protect, exploit and use intellectual property and technology-related assets through the stages of a company's growth, as well as to establish a robust compliance framework.
Lexia's multi practice approach
At Lexia we recognise that rapid advances in technology – artificial intelligence (AI), robotics, blockchain, big data – are significantly impacting our client's business models, growth strategies and day-to-day decision making. Integrated and dynamic, our Data & Technology Innovation group adopts a multi-practice approach to set-up and analyze on-line marketing arrangements by involving other Lexia attorneys who are experts in the field of Fintech and financial services to best assist our clients.
Our clients
We have extensive experience in advising IT service providers, software houses, content creators and Fintech operators on several complex and important matters. This has led the firm to define the tech, data protection and IP industry as one of our core industry sectors and leading practices.
Our clients include Tech and FinTech platforms, software houses, ecommerce platforms and vendors, marketing and digital growth advisors and content creators. We cover all areas of tech and regulatory services adopting an integrated approach handling technology issues.
Data Technology & processing
In recent times, there has been a significant emphasis on the digital transformation, particularly in the context of small and medium-sized enterprises (SMEs), with the aim of enhancing productivity and optimizing processes. The advancement of technology has reached a point where it enables the comprehensive gathering and analysis of vast amounts of data, which serves as a valuable strategic resource for making business decisions. However, alongside this progress, there is often a lack of alignment with legal and ethical considerations, which applies to both smaller and more established companies.
The processing of data is of utmost importance and requires careful handling. Approaching it with an inadequate mindset and a lack of awareness can lead to improper and potentially hazardous uses. To address this, legislation steps in to establish a beneficial framework within which businesses can operate while also fostering greater sensitivity and awareness among companies and entrepreneurs.
We offer legal support support on implementing digital and disruptive technologies and advising to limit the risks of a wide range of technological issues.
Legal support in the implementation of new technologies
We offer a wide range of legal services to support businesses in implementing new technologies.
When it comes to technology projects, we understand the diverse legal needs that arise. Our team provides comprehensive counsel on a range of services, including:
Technology Contracts: We guide clients through the negotiation and drafting of technology contracts, ensuring alignment with business objectives while addressing legal considerations.

High-Impact Technology Implementations: Our firm oversees and advises on complex technology implementations that have a significant impact on business operations.

Cloud Services: We assist clients in navigating the legal intricacies of cloud services, ensuring compliance and mitigating risks associated with data storage and management.

Software Licensing: We offer expertise in software licensing agreements, ensuring proper usage rights, intellectual property protection, and compliance with licensing terms.
Web Development: Our firm advises on legal matters related to web development, helping businesses protect their online presence, intellectual property, and user data.

ERP Implementations: We assist clients in implementing enterprise resource planning (ERP) systems, ensuring legal compliance and data protection throughout the process.

Automation Initiatives: Our team provides legal support for the implementation of automation technologies, addressing regulatory compliance and contractual considerations.

Blockchain: We offer guidance on the use of blockchain technology, including smart contracts, data privacy, and regulatory compliance.
Privacy and compliance with GDPR
Dealing with data privacy and compliance with GDPR (General Data Protection Regulation) and e-Privacy Regulation, our firm offers a comprehensive range of services to ensure adherence to the highest standards of data protection.
Our team specializes in GDPR compliance, providing thorough assessments to evaluate and validate compliance with the regulation. We offer in-house training programs tailored to CxOs, employees, and Data Protection Officers (DPOs), equipping them with the knowledge and skills necessary to navigate the complexities of GDPR and uphold data privacy best practices. Additionally, we offer assistance with international data transfers, including the establishment of data transfer agreements, Binding Corporate Rules (BCRs), and model clauses to facilitate secure and lawful cross-border data transfers.
To address potential risks and evaluate the impact of data processing activities, we conduct Data Protection Impact Assessments (DPIAs), providing valuable insights into privacy risks and recommending appropriate mitigation strategies.
We also handle data subject access requests (SARs), data subject opposition, and right to be forgotten requests, ensuring that our clients effectively address individuals' rights concerning their personal data.
In the event of data breaches and information security incidents, our team offers swift and efficient response services, assisting with incident management, investigation, and breach notification obligations.
Intellectual property
In today's digital landscape, safeguarding the rights of users and consumers is of paramount importance. However, the accessibility and vastness of content and information on the Web have introduced a layer of complexity to the protection of intellectual property.
At our department, we are dedicated to providing comprehensive solutions for safeguarding our clients' intellectual property in various forms. We understand the evolving nature of the internet and Web 3.0, and our expertise extends beyond traditional environments to address the unique challenges posed by these dynamic contexts.
Our range of services encompasses a wide array of legal matters related to intellectual property protection. This includes navigating the intricacies of IP and software licenses to ensure our clients' proprietary rights are secured. We also offer legal memoranda and expert opinions on new projects and platforms, providing invaluable guidance on legal implications and potential risks.
Furthermore, we assist our clients in negotiating and drafting licensing agreements to safeguard their brands and protect their domain names. We understand the importance of preserving the integrity and exclusivity of their intellectual property assets.
In addition, we offer guidance on the use of third-party content, helping our clients navigate the complexities of licensing and usage rights, ensuring compliance with legal requirements and avoiding potential infringement issues.
Lastly, our expertise extends to the licensing of proprietary content. We work closely with our clients to develop strategies that allow them to monetize their intellectual property while ensuring appropriate protection and control over its usage.
Cybersecurity
We conduct thorough assessments to identify vulnerabilities and develop robust cybersecurity strategies that align with industry best practices and compliance requirements. Our services include drafting and reviewing cybersecurity policies, contracts, and incident response plans to mitigate risks and ensure a proactive approach to cybersecurity. In the event of a cyber incident, our team is well-equipped to guide you through the complex legal and regulatory implications, including breach notifications, regulatory investigations, and litigation.
Commercial contracts
Our firm specializes in commercial contracts, providing comprehensive legal support and guidance tailored to businesses engaged in various commercial transactions. We offer expertise in sourcing and procurement, sales, agency and distribution, e-commerce, joint ventures and collaborations, manufacturing, logistics, licensing arrangements, research and development, digital and business transformation, and Everything-as-a-Service.
We assist clients in drafting and negotiating commercial contracts, ensuring that the terms and conditions are carefully tailored to meet their specific needs and protect their interests. Our services include the preparation of terms and conditions (T&Cs) and pre-contractual information documents, establishing a solid foundation for commercial relationships.
We provide guidance on various types of agreements, including distribution, cooperation, and joint venture agreements. Our firm assists clients in structuring these agreements to establish mutually beneficial partnerships and collaborations, ensuring clear rights, obligations, and dispute resolution mechanisms.
In the digital era, we offer expertise in drafting and negotiating technology-related contracts, including cloud service agreements, software as a service (SaaS) agreements, and social media agreements. We assist clients in navigating the legal complexities of these contracts, addressing issues such as data protection, intellectual property rights, service level agreements, and liability provisions.
Our team also provides assistance in licensing agreements, helping clients establish licensing arrangements to protect and monetize their intellectual property assets. We offer guidance on IP transfer agreements, joint development agreements, distribution agreements, reselling agreements, and trademark co-existence agreements, among others.
Our firm provides assistance in drafting and negotiating non-disclosure agreements (NDAs) and non-competition agreements, helping clients protect their confidential information and prevent unfair competition.
In the context of mergers, acquisitions, and joint ventures involving technology-based companies, we provide support in drafting and negotiating IP contracts, conducting IP due diligence, and assessing the value and risks associated with intellectual property rights.
Our professionals have also gained significant expertise in the following sectors:
E-Commerce
Our firm specializes in e-commerce law, providing comprehensive legal support and guidance tailored to businesses engaged in online commerce. We offer expertise in various areas critical to the e-commerce industry, including service agreements and vendor contracts, data security and privacy compliance, contractual mechanisms for digital platform usage, assistance on the implementation of third-party functionalities, and acquisition of e-commerce accounts.
We assist clients in drafting and negotiating service agreements and vendor contracts, ensuring that the terms and conditions are tailored to the specific needs and requirements of e-commerce businesses.

We provide guidance on the legal aspects related to user registration requirements, obtaining user consent, and establishing clear terms of sale on digital platforms.
We offer assistance on the implementation of third-party functionalities, helping businesses integrate external services or applications into their e-commerce platforms.

We support marketing and commercial activities providing comprehensive legal services in the field of sweepstakes, contests, and promotions.
To learn more about our services for e-commerce and online businesses, we invite you to visit our dedicated website, 4elaw.it.